It's time again for another Roadtrip Wednesday!

This week's topic:
What are your writing and publishing superpowers?
I told myself I wouldn't do any more of these until I got further on my Nano, but I can't resist - especially when so many other people are doing it.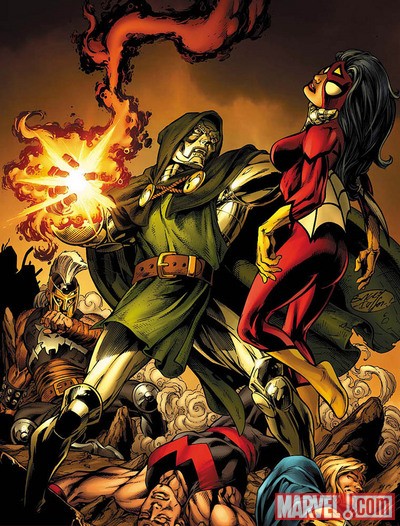 "
Only Doom dares to dream! All others serve!
"
Why Doctor Doom? Uh... I have a thing for world-domination.
(edit) Okay, it's because I like things big, I like things brilliant, and I like things MINE.
1. Character creation/development: From the character design, to the personality, I put a lot into making great characters. Sometimes my supporting characters will turn out great unintentionally and become an integral part of my story. But, I love it so much, I can get obsessed and it'll become my kryptonite.
2. Pantsing brilliance: No other way to explain this than just my subconscious is brilliant even when my conscious is a little dull. As I write, I watch plot tie itself together, strands that I'd almost forgotten about miraculously connecting themselves later in the story. I don't even know how this happens, but I'm glad it does!
3. Chapter titles: These are a lot of fun, and addictive. They only stumble me once in awhile.
4. Finally, my not-so-secret weapon: Illustration. If I have a problem describing a character or don't have a handle on what he/she is like, I just pull out my sketchbook. A few sketch pages later, I usually know the character much better. Or I'll keep at it until I do.
My kryptonite:
1. Deadlines: Ugh. Death. Dismemberment. I have a hard time sticking to them. I have a hard time self-imposing them and typically can't reach them because I just can't trick myself into thinking they matter. It has to be a party outside myself - a higher authority - that imposes them on me so I feel like there are consequences to not reaching them.
2. Book Titles: It's the pressure that this is the ultimate label for my manuscript, the word or words that everyone will know and speak once it hits shelves. A bad title can sink a book. Just like bad cover art can. I can't screw that up. Thinking about book titles, and especially series titles kills me a little inside.
3. Synopsis: I can throw together a pretty, polished, professional query letter... until it comes to the synopsis. There are so many ways a writer can pitch their book - for instance, mine could focus on the faerie aspect, or the boogeyman aspect, or just Lividia herself and her Victorian life. It all depends on the impression you want to give people about your book. It took me a very long time, and a handful of queries under my belt before I managed to get anything I really liked in this department.
What about you? What're your writerly superpowers? What's your writer kryptonite?