I haven't participated in
Roadtrip Wednesday
in a long time, but I happened to catch the prompt today and I just had to get on board. Being a former roleplay junkie, this question is something I've thought about more than once. When I was a kid I made believe I was other people all the time. Now I write about other people and go along for the ride.
This week's prompt:
If you could be reincarnated as any fictional character, which would it be?
(Hold on to your hats folks!
)
If I could be any fictional character (tv and movies included) why not be a legend?
And so: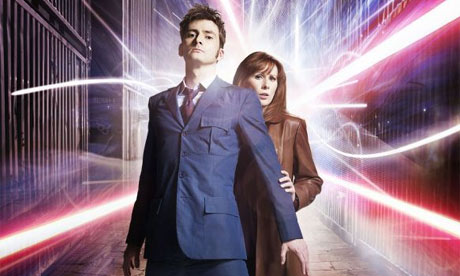 The Doctor
Why not?
Sure, there's the perpetual loneliness, the incredible weight of responsibility, eventually losing those you love. But there's also the travel, the companions, other races you get to meet, and the sheer uncanny ability to always come out on top. He's a protector, I'm a protector. People don't question him (if they know what's good for them). He's larger than life and just the mention of his name sets villains trembling in their metal boots (kind of like Batman).
Now, if I had to choose a character who wasn't quite as renowned, I'd either choose
Lydia Deetz
(from the cartoon Beetlejuice) or
Tiffany Aching
from Terry Pratchett's Tiffany Aching series. Lydia because she has the most amazing imaginary friend ever, and Tiffany because she's a powerful witch with a good head on her shoulders. I absolutely love Tiffany. The fact a troupe of feegles follows her around doesn't hurt either.
Who would you choose?