Since I missed my Good Fridays spot this week on account of work, I'm doing a Saturday post. For this post I want to ask the question: What does the term 'author' mean to you? Is there a difference between an author and a writer?
Dictionary.com has these two definitions:
Writer
1. a person engaged in writing books, articles, stories, etc., especially as an occupation or profession; an author or journalist.
2. a clerk, scribe, or the like.
3. a person who commits his or her thoughts, ideas, etc., to writing: an expert letter writer.
4. (in a piece of writing) the author (used as a circumlocution for "I," "me," "my," etc.): The writer wishes to state….
5. a person who writes or is able to write: a writer in script.
Author
1. a person who writes a novel, poem, essay, etc.; the composer of a literary work, as distinguished from a compiler, translator, editor, or copyist.
2. the literary production or productions of a writer: to find a passage in an author.
3. the maker of anything; creator; originator: the author of a new tax plan.
4. Computers. the writer of a software program, especially a hypertext or multimedia application.
By those two definitions, they're pretty interchangeable. The main difference is that 'author' can be used in a broader sense than 'writer', but I think we all have our own definitions of the terms. That's what I'm more curious about.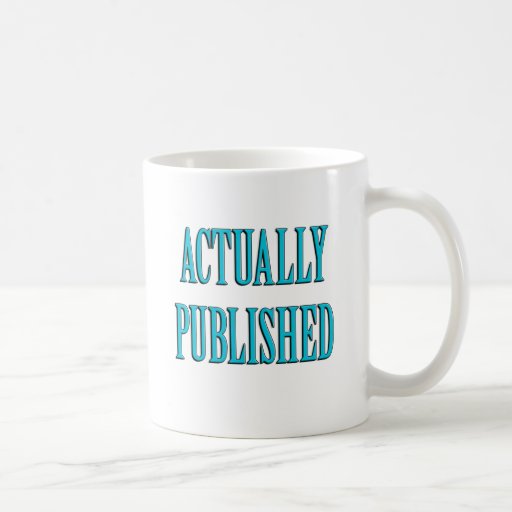 mug from zazzle.com
To me, a writer is someone who writes (specifically prose) either professionally or as a hobby. Writer is flexible and can be "I'm a sports writer for the newspaper" or "I think my daughter's becoming a writer!"
As for 'author', I can't help but hear the word 'published' in front of it every time. Such as "J.K.Rowling, author of the Harry Potter series." or "YA has so many new authors!" You never get the impression they mean unpublished. This is why I refer to myself as a writer (or, in most cases, writer/illustrator), and not as an author... yet.
What about you? Do you consider yourself an author or a writer? Does it matter?