Since I've been away for almost a month, I'll start with an update.
Snow, snow, and more snow! Southern Ohio usually gets its big snowfalls in January and February. (White Christmas? Pffffft!) And, boy, did we ever get it! So did most of the nation. I saw pics of the mess in Atlanta where people who weren't used to snow suddenly received an unexpected winter gift.
What I Did on My Snow Day:
Snow isn't encouraging for my creative motivation at all. I end up stuck indoors, feeling guilty about the work I'm not doing as I sit on the couch watching Sherlock. I've also been experiencing incredible cabin fever - you know the kind where you don't just want to leave the house, you want to leave the state, maybe even the country? I got a massive urge to go to Europe, go to Florida, go to New York. And, for some reason, it was better weather in all the places I imagined.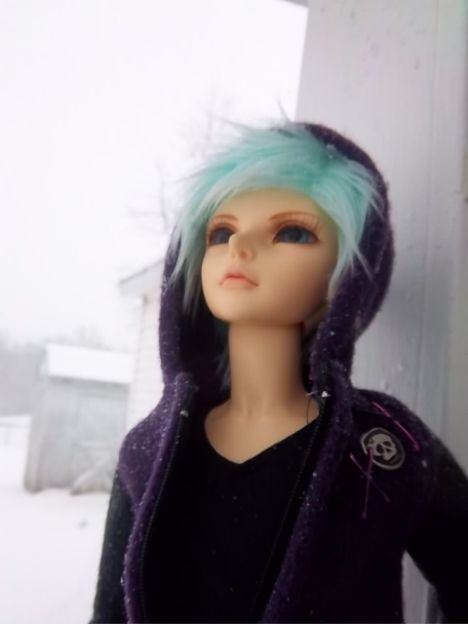 When the snow came, I did what any spontaneous child-at-heart does. I went outside to play in it. I took Silvan with me. Silvan is my Korean ball-jointed doll. He makes a pretty decent model too. After I'd snapped some photos of him in the snow, and my fingers were sufficiently frozen, I felt satisfied. I'd gotten out
and
done something creative!
What snow-day would be complete without a good book? I'm talking about
Seraphina
by Rachel Hartman. Have you read it? To be honest, I've had so many recommendations from friends online and off to read this book, that I finally did. It's great! It's everything I could want in a YA fantasy, and I love the author's take on dragons. The best part is it's written in first person perspective, but past tense, so it doesn't make me feel rushed. I like the female MC's voice, and the plot and creatures in her world are so interesting I have to keep reading. One word of caution: this book has a sequel that isn't out yet.
While I was battling weather and motivational issues, I missed my blog, but I had a happy surprise waiting for me when I came back.
My blog has reached 100 followers!
Yaaaaay! In celebration of this, I plan to hold a giveaway. My first thought is to do a sketch as a prize for a lucky reader. It would be an original pencil sketch. Is that something you'd be interested in?
Since I can't give them to you myself, Bookpage.com is giving away
free books
and totes and gift cards to readers who
answer their online survey
. It only takes a few minutes and doesn't require you to buy anything. The site says there will be at least 12 winners.
Lastly, to make you more excited about an original sketch from me, I've started digitally coloring the sketches I did last November during novsketch. Here's my current WIP.
Those are my updates. How've you been coping with the copious weather we've had?